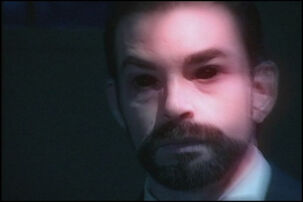 The Man in the Suit is the demonic entity, and the main antagonist who appears in the Pilot Episode
A Haunting in Connecticut
Synopsis Edit
In 1986, Ed and Karen Parker with their four children, Bobby, Paul, Connie, and Mark move into an old Connecticut home to be near the hospital where their teenage son, Paul receives cancer treatment. Soon after learning that their residence was once a former funeral home, sons Paul and Bobby start seeing ghosts. Paul begins seeing evil entities, including four dark men and a demon called the "Man in the Suit", and his mental health worsens while his physical health begins to improve. Paul begins to spend more time alone and his behavior becomes violent and unpredictable. He writes dark, sinister poetry and even physically attacks his favorite cousin, Theresa. With his behavior becoming increasingly erratic, his parents have him committed to a mental hospital. Before his departure, Paul warns his family that once he is out of the house, the demon would begin to attack everyone else. Sure enough, once Paul is gone, the evil forces including "The Man in the Suit" who were inhabiting the house turns against the rest of the family. In desperation, the Parkers contact psychic investigators Ed and Lorraine Warren, for help. John Zaffis another psychic investigator is later attacked by the Man in the Suit after leaving the safety of the living room where everyone was, and that the demon turned into a ball of fire leaving Zaffis terrified, and later leaves the house. An exorcism is later performed which banishes the demon from the house.
Shapeshifting - As a demon, he can take the form of anyone he wishes.
Healing - As the demon grew closer to his victim, Paul, he was healed of his cancer.
Pyrokinesis - The demon can send fireballs at his victims.
Invisibility - As a spirit, the demon is naturally invisible to humans.