The Haunting in Connecticut 2: Ghosts of Georgia
is a 2013 film based loosely on the 2002 docu-drama,
A Haunting in Georgia
---and the book,
The Veil: Heidi Wyrick's Story
. This story serves as a "sister" to the first movie,
The Haunting in Connecticut
.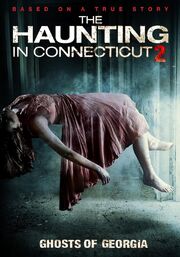 The Wyrick family is delighted to be moving into their new house. But when their young daughter, Heidi Wyrick, begins talking to "imaginary friends," things take a darker turn. As the sightings of spirits from another time goes on, soon enough, a tragic story of what really happened on their family's new land all those years ago makes itself known. Frightening, but also helping the Wyrick family.
TBA
Gold Circle announced on June 11th, 2010, that there are plans for a third movie, The Haunting in New York. Sean Hood has been confirmed as the screenwriter for the project.